Andrew Mcilvaine: Resilience Story Artist Talk and Reception
Discover how an artistic vision is brought to life.
---
Featuring mixed media installation and sound, the Museum's new exhibition, Resilience Story, tells the story of a past and future through the lens of creative expression.
Experience the creative process up close through an in-depth discussion with artist Andrew Mcilvaine as he speaks about his life and artistic practice.
"This work is about the act of trying to recover the truth buried in the past, while simultaneously putting to rest prior memories and traumas," said Mcilvaine. "As a result, there's a wrestling with fate and faith in the space and an inner and outer contemplation through self-reflection which mirrors previous trials and tribulations. Here, legacy is woven into the fabric of the work through materials like ballpoint pen, silver, tin Milagros and stained glass. Items that hold divine and transformative power and the ability to recontextualize one's destiny."
Light refreshments will be provided. Free and open to the public, no RSVP required for in-person attendance.
RSVP for the livestreaming link!
Uncover Andrew Mcilvaine: Resilience Story in the McCaffree Gallery April 6 to October 15.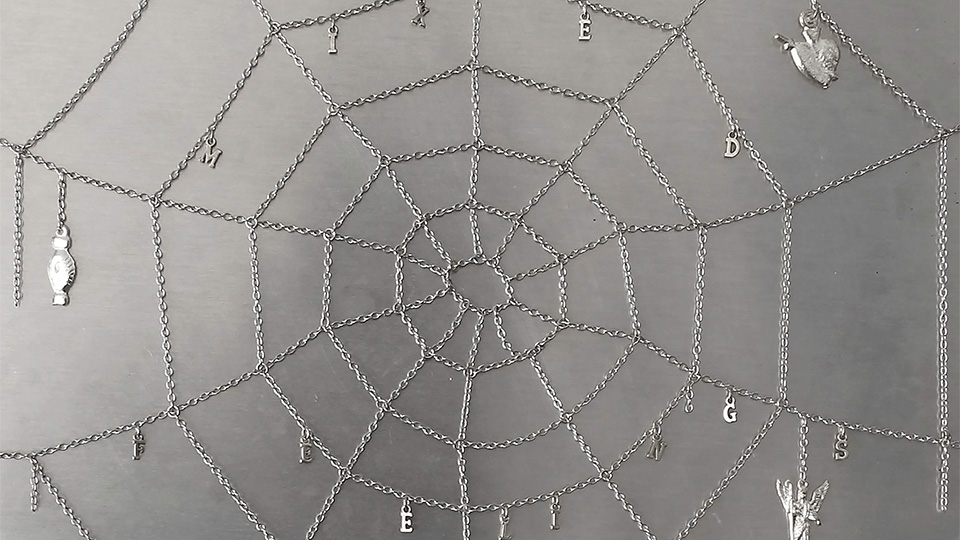 Andrew Mcilvaine, Still Haven't Heard from You, but I'll Wait (mixed feelings) (detail), 2023, Tin Milagros, chain, woven silver web, charms, grommets, and silver tassels attached to lowrider hoop, 27 x 17 x 2", Courtesy the Artist