Paño Workshop with Andrew Mcilvaine
Pick up a pen and get creative at the Nerman!
---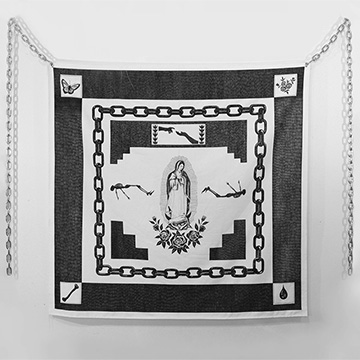 Artists of all ages are welcome to discover a new world of artistic abilities in a workshop led by artist Andrew Mcilvaine.
Enjoy a free beverage and snack in the Nerman Museum's Café Tempo as Mcilvaine explains his practice. Next, try your hand at drawing with a ballpoint pen on paño, or cloth. Supplies are provided and your creations are yours to keep!
Continue your exploration at the Museum and visit Resilience Story, the new exhibition in the McCaffree Gallery. Pulsating with emotion, this moving exhibition features mixed media installation and sound that draw the viewer in.
"This show is about redemption through imprisonment and generational movement," said Mcilvaine. "The work reflects the relationship between me, my father and the rituals and histories passed from one generation to the next through walls. In the space, viewers encounter drawings on paño, which are works on fabric traditionally created by Chicano prisoners from the south and southwestern United States. These works express feelings of loss, progress, hope, love and highlight stories of resilience."
Uncover Andrew Mcilvaine: Resilience Story in the McCaffree Gallery April 6 to October 15