Youth Art Classes
The museum offers a popular series of studio classes for children on Saturdays throughout the academic year and on weekdays during the summer.
---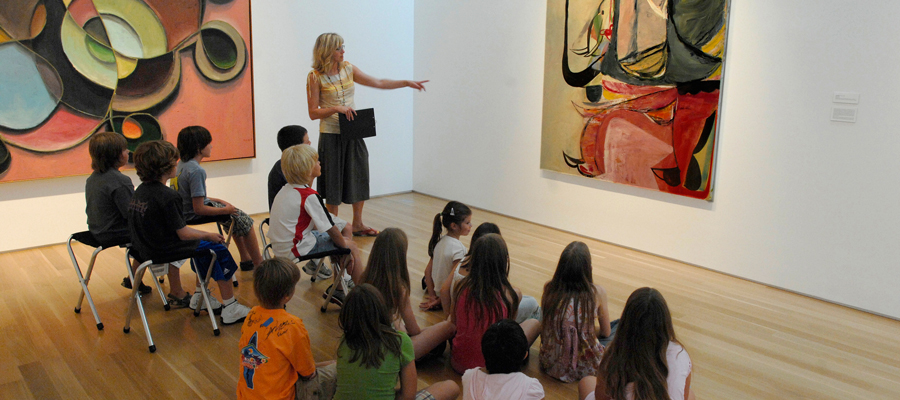 The Early Explorations program welcomes children ages 5 to 7, while Contemporary Creations classes provide more advanced lessons for children ages 8 to 11.
Students explore and discuss selected works of art, developing their critical thinking skills and expanding their cultural awareness; they then create original works of art in the museum's studio classroom.
Instructors demonstrate basic techniques, teach principles of design and guide students as they express their own ideas through a variety of media.
Schedules, Fees & Registration Information
Visit the class search, using the links below, for descriptions of upcoming courses and class dates. In the class search, select enroll to register your child online, or use one of our other ways to register. Early Explorations and Contemporary Creations are offered two times, from 10 a.m. to noon or 2 to 4 p.m. Fees are $15 per session or $10 for members of the Nerman Museum. All necessary information is included in web registrations.
Required Forms
All participants under the age of 18 in the Nerman Museum art classes must have an Emergency Notification Form (ENF) on file. The ENF is incorporated into the online registration. For those who register by phone, in person or by mail; this form must be submitted prior to enrollment.  Please complete the form by selecting one of the following:
This form must be completed once a year.
If necessary, please complete the Consent for Self-Administration of Medication form - PDF.
Mail, fax or email completed forms:
Johnson County Community College
Continuing Education Registration
Box 62
12345 College Blvd.
Overland Park, KS, 66210-1299
Fax: 913-469-4414
Email
Refunds
Drop-off and Pickup Procedures
Enter campus using the entrance on Quivira Road immediately south of College Boulevard.
Parents may check in students in the museum's lobby 15 minutes prior to class. Staff at the information desk will greet your child and you may escort him or her to the classroom.
We recommend that parents leave their children during the duration of the class, and we welcome parents to visit the museum galleries.
Parents pick up students in the classroom when class is over.
Parking is free, and the museum has limited designated parking. There are parking lots around the perimeter of campus, and there is a parking garage near the Midwest Trust Center, a garage adjacent to the Regnier Center and a garage on the south side of campus with a five-minute walk to the museum.
Nerman Museum of Contemporary Art Regulations
Please refrain from bringing toys, games, trading cards, or electronic devices to class.
Children must stay with the class group at all times.
Students are encouraged to look closely at, but not touch, the artwork, including the outdoor sculpture.
Students are asked to walk slowly with no running or wild movement during the tour.
Shoes must be worn at all times during class. Shoes with wheels are prohibited.
No touching the art or the cases that protect the art.
Food items and liquids are not allowed inside the museum, except in Café Tempo.
Visitors are kindly requested to silence their mobile telephones when entering the museum.
Photography or video recording with flash is not allowed inside the museum.
No leaning on walls, cases or pedestals (either to write or for physical support).
Ink or any other permanent mark-making devices are prohibited, except in the studio classroom.
Backpacks, umbrellas, and packages must be left in storage closets.
Student Conduct
Our policy requires that disruptive students be removed from class. If necessary, we will call parents for early pick up. Tuition refunds are not granted to students permanently removed from class.