Education
The Nerman Museum of Contemporary Art offers a variety of educational programs and resources for JCCC students, faculty and the broader community, including youth, families and lifelong learners.
---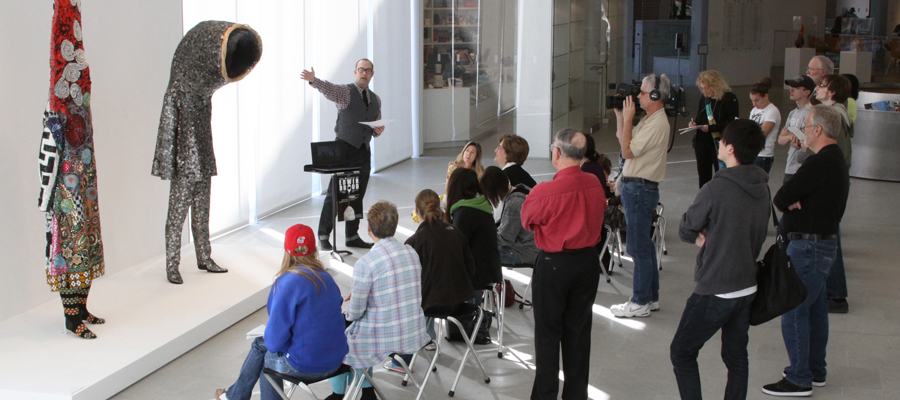 In addition to JCCC programs and K-12 school tours, the Nerman Museum offers lectures, visiting artist presentations, activities for families and art classes for children. Refer to our calendar or visit the information desk in the museum to find details about upcoming programs. Most are free and open to the public. 
Tours and Group Visits
Tours cover various themes so students can connect their museum experience with classroom lessons. The Nerman Museum education staff develops curricula and oversees educational use of the collection and exhibitions according to state and national standards. We have designed cross-disciplinary tour curricula in partnership with school teachers – including Nature in the Cities: Third Grade Language Arts and Patterns and Symbols: Fourth Grade Social Studies – as well as connections with math and science. At the intermediate level, the transitions theme guides students through an investigation of diversity. Custom tours may be developed to meet the needs of Scout groups, assisted-care groups and business leadership groups from the community.
Preschool Groups
We develop programs and resources in partnership with the preschool classrooms at the JCCC Hiersteiner Child Development Center. Our education staff members work with self-guided group leaders to facilitate the best educational experience. Our museum curricula and resources are available to help parents and educators guide young children as they focus on age-appropriate artwork and related hands-on learning experiences. A starter list of recommended artworks from our permanent collection is available upon request. It includes current art in the museum, outside and in adjacent campus buildings so you can customize your visit. Refer to the chaperone policy (one adult per three children in 2nd grade and younger) and museum manners beforehand so children and adults are prepared to have a safe and productive visit.
Family Programs
The museum offers free family-friendly workshops in our studio classroom twice each semester, scheduled Thursdays at 5:45 p.m. for an hour prior to artists' lectures at exhibition openings. Refer to our calendar. Pick up a free NMOCA "Kids Family Folder" with an activity and prize at the lobby information desk. A 3-D art hunt sketchbook is available for the school groups and families, with content for K-6th grade. 
Work Experience
The museum provides adults with entry-level employment and opportunities for volunteering, which help build résumés with fieldwork. We recruit volunteers year-round to assist with educational programs. Refer to volunteering under our join tab.