Marti and Tony Oppenheimer
The renowned Oppenheimer Collection of JCCC was founded in 1992 by philanthropists Marti and Tony Oppenheimer. Working closely with Bruce Hartman, the museum's executive director, the Oppenheimer Collection is featured throughout the museum website along with the selected works below. The Sculpture, Painting, New Media and Works on Paper sections showcase many important Oppenheimer Collection works.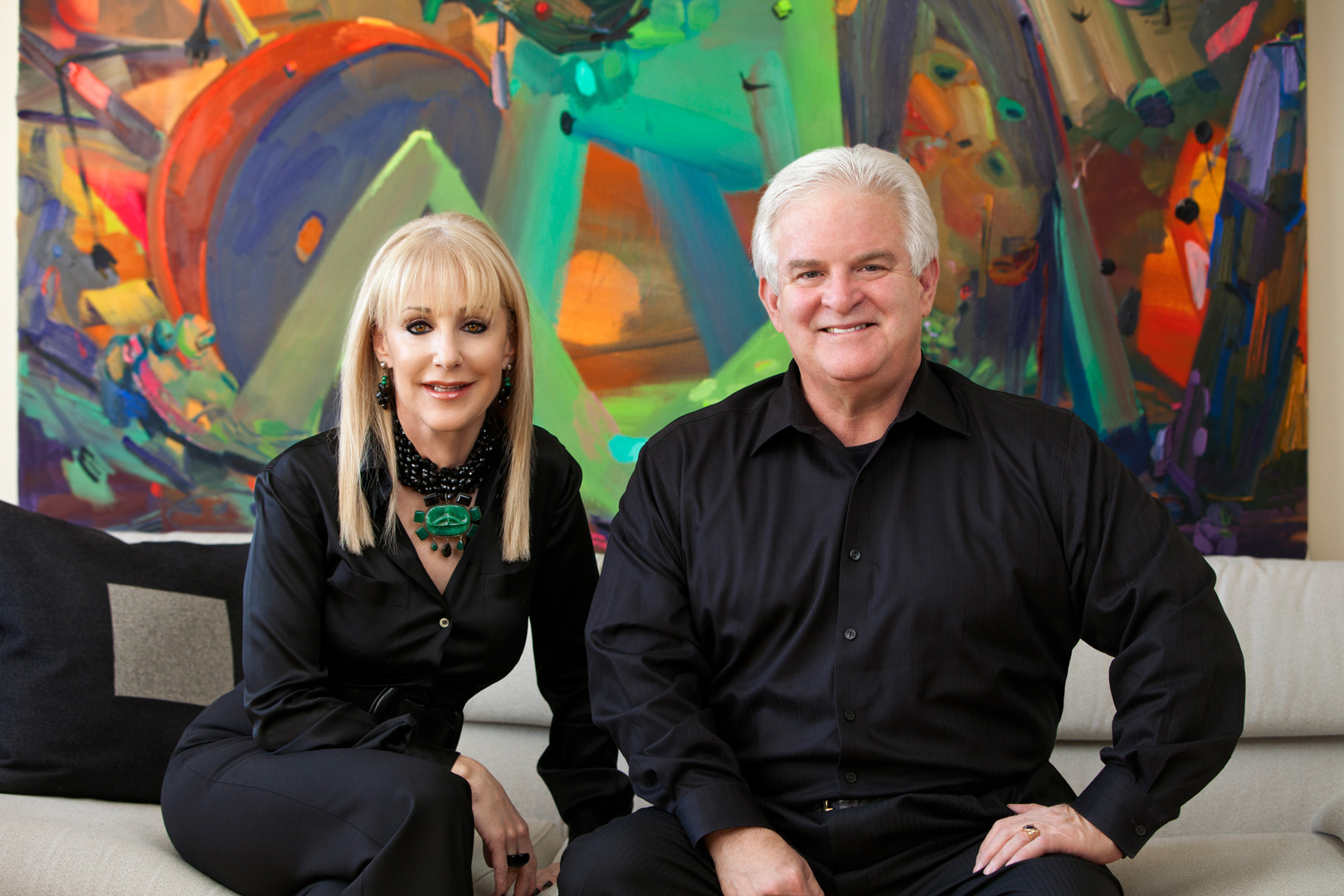 The Oppenheimer Collection is a cornerstone of the museum's permanent collection. It includes sculptures, paintings, photographs, ceramics, new media, textiles and American Indian art. One of the earliest sculptures acquired was Woman with Packages, an important bronze by Louise Bourgeois, then in her 80s. Other major pieces are Walking Man (On the Edge), made of fiberglass and steel by Jonathan Borofsky, Hare & Bell, a bronze by Barry Flanagan, Two on Beam, a bronze of two headless figures by Magdalena Abakanowicz, Stephan Balkenhol's monumental wooden sculpture Man Lying on a Platform and Nick Caves dazzling Soundsuits.
When construction of the Nerman Museum was initially announced in 2003, the Oppenheimers immediately offered to take on the challenge of filling the museum's permanent collection galleries. They also understood the importance of providing an art experience throughout the campus. One of their goals was to introduce art in a unique way to students who might never step into a museum or gallery. "And now they are surrounded by art," Tony Oppenheimer said.
For more than two decades, the Oppenheimers have donated more than 150 works of art. The collection is now valued in excess of $10 million. In 2006, JCCC was cited by Public Art Review magazine as one of the top 10 college campuses for public art in the United States.
"The Oppenheimer Collection celebrated its 20th anniversary in 2012," said Bruce Hartman, the museum's executive director. "It is synonymous with the museum. Do-Ho Suh's sculpture Some/One is an icon for the museum just as Jonathan Borofsky's Walking Man is a signature work for the entire campus."
The Oppenheimer Collection is featured within the Nerman Museum's second floor permanent collection galleries. The Collection continues to grow, as new works are acquired each year. Changing exhibits also allow visitors to view differing aspects of this renowned collection.
A book of the Oppenheimer Collection is available through the JCCC Billington Library.
Oppenheimer Gallery