Join the Nerman Museum as a Volunteer
We are continually taking applications for various volunteer positions including visitor services for events and daily activities, and class assistants for our youth programs.
---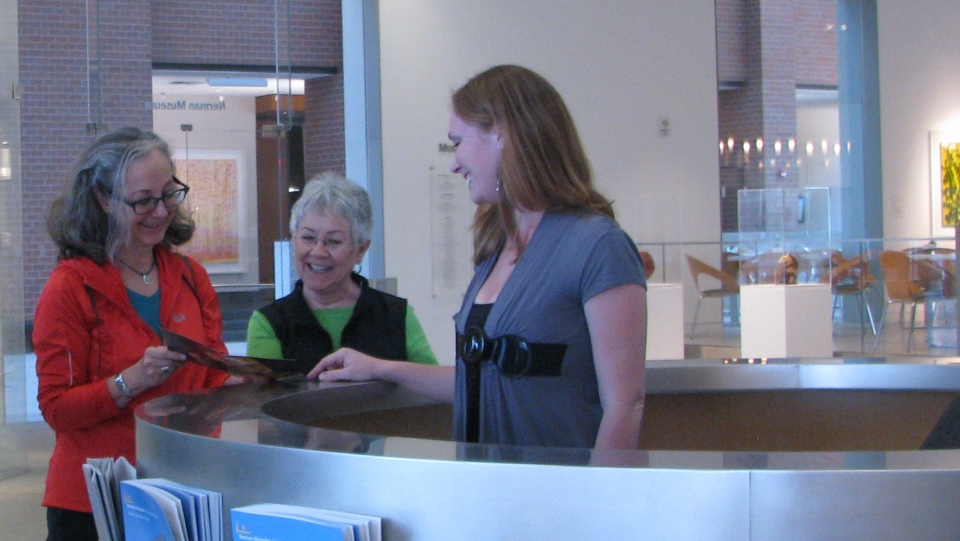 Volunteers age 18 and older enjoy working with museum staff, art educators and other individuals to facilitate informal learning and assist with educational programs. High school student applicants are considered on an individual basis with parental consent and a teacher recommendation.
Visitor service assistants gain customer service experience at the information desk during daily activities and during special events and programs. Children's class assistants gain childcare and teaching experience as they learn hands-on about art museum education as a profession. Docent volunteers complete a comprehensive training program and lead interactive art appreciation tours for school, college and community groups. Volunteering is a great way to become familiar with contemporary art and artists while working as part of a professional art museum team. 
Please allow two weeks for applications to be processed.
Positions and Descriptions
Docents
Nerman docents lead interactive tours, encouraging visitors to appreciate and understand contemporary art in our special exhibitions and in the permanent collection on view throughout campus. In addition to serving JCCC staff, faculty and students, docents work with the Nerman staff as a team to welcome school children, community groups, and the general public to the museum and campus, and to pursue the educational mission of our institution. 
Required Skills and Qualities
Strong interest in teaching others.
Commitment to enhancing visitors' experience with the art.
Interest in contemporary art, open to learning about challenging issues.
Good speaking skills.
Good listening skills/ability to respond to visitors' questions and comments in a sensitive manner.
Punctuality, availability to attend initial training sessions and continuing education.
Ability to move quickly and assuredly along the tour route, involving transitioning between multiple floors, traversing numerous buildings, and making stops both in and outside throughout campus.
Preferred Experience
Previous teaching or customer service work.
Previous involvement in a cultural institution.
Previous volunteer work with a long-term commitment.
Experience interacting with various age groups: seniors, adults, teenagers, and elementary-school-aged children.
Familiarity with the JCCC campus.
Expectations for Prospective Docents
Turn in a completed and signed Docent Application, reference called, and attend a 30-minute interview.
Give a 2-year minimum commitment, including 3 months to 1 year of training prior to giving tours.
Participate in the initial training class with 90-min. meetings twice a week for 12 weeks, make up work as needed.
Turn in a completed and signed JCCC Volunteer Application and Code of Conduct.
After completing the initial training class:
Participate in ongoing 90-min. continuing ed. training meetings held approximately every other week May through November (no meetings during college holiday breaks).
Observe several tours and give a practice tour for a small group of NMCA volunteers.
Lead at least one team tour alongside an active docent.
Turn in completed self-assessment forms after every team tour and every solo tour.
Be ready and available to give solo tours by the summer of 2022.
Participate actively in training and give tours regularly, accruing a minimum of 40 participation points annually (approximately 15 tours). Occasional event and program assistance will be appreciated, so all docents-in-training will be scheduled to shadow a Visitor Services Assistant for a 1-hour shift to facilitate informal learning in the museum.
Daily Visitor Service Assistants
Benefits: Work with professional museum staff, expert art educators and other volunteers to facilitate informal learning, gain visitor service experience in a dynamic environment, become familiar with contemporary art and artists, and be a part of an art museum team. After six months of satisfactory performance, visitor service assistants receive honorary museum membership.
Position description: Work 2.5 hours a week at the information desk; shifts scheduled in advance; report to museum staff.
Skills or training: Customer service, teaching or hospitality experience is preferred. Alert and friendly personality and strong communications skills are required. Complete a JCCC application and Nerman Museum application; references will be called and an interview will be scheduled. Successful applicants must sign and return a code of conduct, and attend orientation sessions and occasional training sessions.
Tasks
Wear name tag and adhere to dress code.
Plan to arrive 15 minutes prior to scheduled shift start and plan to stay up to 15 minutes past scheduled shift as needed. Sign in to log hours.
Greet every person with a smile and "hello." Look up to initiate eye contact with all passersby.
Inform visitors about museum rules and policies, and assist with coat storage and lockers. 
Check weekly schedule of museum programs and be aware of guided and self-guided tour groups. For any unscheduled groups who walk in, record name and number of visitors on tour log for our records.
Answer questions about exhibitions and programs, give directions and distribute educational materials and information brochures as needed.
Provide visitors with pencils and clipboards to borrow while in galleries.
Conduct check-in for students enrolled in art museum youth classes.
Obtain temporary substitute (security guard) before leaving post for breaks.
Notify staff in advance for all absences.
Participate in annual individual performance review and ongoing peer evaluation.
Attend exhibition training sessions with fellow volunteers.
Children's Class Assistants
Benefits: Work with expert art educators, gain childcare and teaching experience in a dynamic environment, learn about contemporary art and artists in the permanent collection and exhibitions, and learn about art museum education as a profession.
Position description: Assist instructors with preparation and implementation of Contemporary Creations and Early Explorations classes, including supervising students during the warm-up project, the gallery component, the studio component, discussion and cleanup. Report to the instructor and the curator of education. Work three to six hours per week. Saturday, 9:30 a.m.-12:30 p.m., 1:30-4:30 p.m. shift times available throughout the academic year, and weekday shifts are available in the summer.
Skills and training: Recent studio art coursework or childcare experience is required. Fill out a JCCC application and Nerman Museum application; references will be called and an interview will be scheduled. Review general information packet. Volunteers receive a copy of the lesson plan via email prior to class date.
Tasks
Wear Nerman Museum apron and name tag while on duty.
Arrive 30 minutes before class begins. Meet the instructor in the classroom.
Welcome students as they arrive. Supervise the warm-up project for the early arrivals. Once all students arrive, the instructor will lead introductions. The visitor service assistant from the information desk will bring the check-in/check-out sheet (clipboard will also have emergency contact information for each student).
While the instructor conducts the tour, assist by keeping the students together and reinforcing the instructor's authority, reminding students of the museum rules if they forget.
After the tour, the instructor will demonstrate the studio project. Gently remind students to pay attention as needed.
Following the instructor's suggestions, pass out materials, supervise and assist students as needed
Supervise students as they clean up.
Supervise children during the discussion component and supervise them until their parents arrive to pick them up.
Check students out as they leave with their parents.
Distribute parent letters and make sure students leave with all belongings and projects.
Help instructor finish cleanup and prepare materials for next class.