May Tveit · Universal Boxes
May Tveit has long been fascinated and inspired by the materials and processes that inform and define industrial design. In her newest work, Tveit undertakes a deep research project to explore and investigate the ubiquitous cardboard box.
---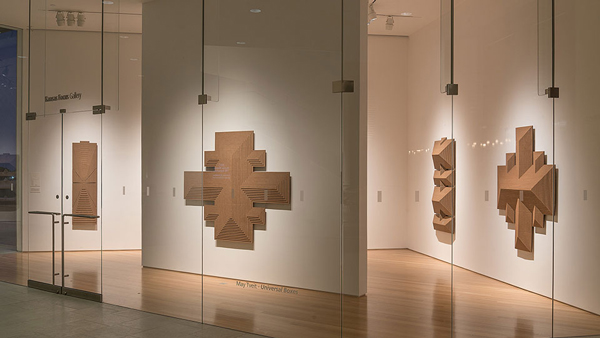 Ever-present, multi-faceted, and totally underappreciated, the cardboard box is useful, sturdy, and elegant in its capacity to economically solve human problems: packaging, holding, hiding, protecting, transporting, keeping, and compartmentalizing the useful and useless contents of our lives. In sculptural works that monumentalize this most humble of materials, Tveit cuts, stacks, and joins flat generic/universal box template forms to create extraordinary, mysterious volumes that recall and reimagine ancient architectural shapes like pyramids and ziggurats.

As a researcher and artist embedded within the Lawrence Paper Company, a 130-year old family business and manufacturer of corrugated cardboard and packaging products, Tveit has collaborated and intervened to create works that explore layers of memory, longing, and safekeeping. A graduate of Domus Academy in Milan, Italy, with a Master of Industrial Design in 1991, and the Rhode Island School of Design with a BFA in 1989, May Tveit has taught at the University of Kansas since 1999. Her exhibition will be in the Kansas Focus Gallery.