Justin Beachler · James Brinsfield · Paul Cowan · Chris Daharsh · Cristina Muñiz · Jered Sprecher
---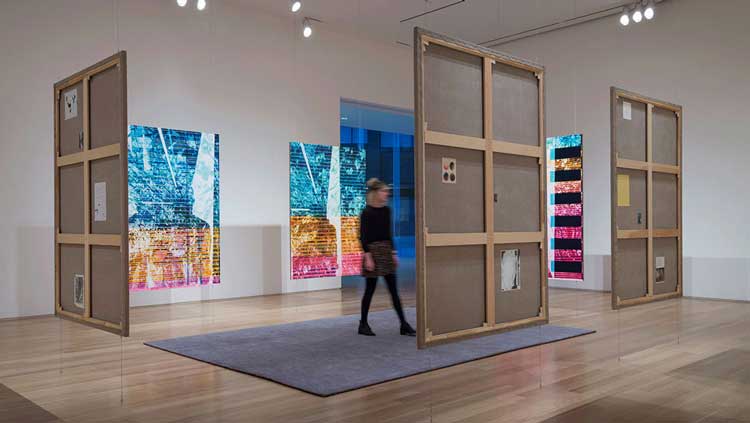 Anxious times breed anxious art, as artists reflect society's uncertainty about issues ranging from healthcare and economic security to race and gender equality, immigration policy, the impact of climate change, the chipping away at privacy and the renewed prospect of nuclear war.
Anxious Abstraction looks at how this widespread sense of insecurity is manifested in the abstract work of six artists, all based in, or with significant ties to, Kansas City.
Incorporating a myriad of symbols, compositional devices and found objects alluding to the real world, including IKEA shag rugs, fishing lures, representation of boundaries and barriers, hippie tapestries and digital images, the works in Anxious Abstraction challenge long-held formalist ideas of abstraction as an art devoted solely to the exploration of form.
Dissonant colors, off-kilter compositions, upended conventions and invocations of the irrational suffuse this exhibition with an existential anxiety that parallels our current moment and mood.
Anxious Abstraction also continues Nerman MoCA's exploration of contemporary abstract painting. As a follow-up to Abstract KC, 2011-2012, the exhibit furthers the museum's commitment to artists associated with Kansas City.
— Alice Thorson, Editor, KC Studio
Justin Beachler was born in 1981 in Springfield Missouri. He attended the Kansas City Art Institute from 2001 to 2003 and graduated with a BA in art history from UMKC in 2012. Beachler is currently living and working in Kansas City, Missouri. His work has recently been shown at Haw Contemporary, Negative Space, Paragraph Gallery and Hown's Den in Kansas City and Hidden Temple Gallery and Storage, Subterranean Gallery, Bank Projects, the Luminary in St. Louis.
James Brinsfield was born in 1949 in Chicago, Illinois. He has a BFA from the University of Illinois at Chicago, and he participated in the MFA program at the School of the Art Institute of Chicago. Now based in Kansas City, he taught at KCAI from 1998-2016, and he has work included in the permanent collections of the Nerman Museum, the Kemper Museum, and the Museum of Contemporary Art, Chicago. His work was included in 1996 and 1998 Perspective KC exhibitions at the JCCC Gallery of Art. He was a 1997 Charlotte Street Foundation Award Fellow.
LA-based Paul Cowan was born in 1985 in Kansas City, Missouri. In 2012 he graduated with an MFA from the University of Illinois at Chicago, and in 2007 he completed his BFA at the Milwaukee Institute of Art & Design. His recent exhibitions include the Museum of Contemporary Art in Chicago, Clifton Benevento in New York, and Young Art in Los Angeles 2011.
Chris Daharsh was born in 1990 in Omaha, Nebraska. In 2012 he graduated with a BFA from KCAI, and now he lives and works in Brooklyn, New York. From 2015-2016 he was a member of 50/50 in Kansas City, an artist-run gallery that showcases half local and half national artists. He was a 2016 Charlotte Street Foundation Award finalist, and was in the CSF's residency program from 2012-2014. He has shown work locally at Haw Contemporary and the Epsten Gallery, and nationally at Rebekah Templeton Contemporary in Philadelphia, MDW Art Fair in Chicago with Plug Projects, and So What Space in Brooklyn.
Cristina Muñiz was born in San Antonio, Texas, and from 1993-1995 she studied at Palo Alto College. After pursuing a retail career, she returned to college and from 2009-2011 she studied at San Antonio College, earned her associate degree in graphic illustration, and then moved to Kansas City, Missouri, in 2012 to finish her BFA at KCAI. In 2014, she was a recipient of the Charlotte Street Foundation's Studio Residency program. Muñiz is a resident artist with The Drugstore studios. She lives and works in both Kansas City and San Antonio.
Jered Sprecher was born in 1976 in Lincoln, NE, and graduated from Shawnee Mission South High School in Overland Park, KS. Sprecher received a BA in History and Studio Art at Concordia University, Seward, Nebraska and an MA and MFA in painting from the University of Iowa, Iowa City, IA. His worked has been exhibited in numerous group and solo exhibitions since 1999 at locations including The Drawing Center, Brooklyn Academy of Music, Irish Museum of Modern Art, Hunter Museum of American Art, and Espai d'art Contemporani de Castelló. In 2009, he received a Guggenheim Foundation Fellowship. He is based in Tennessee, where he is a professor at the University of Tennessee Knoxville.