Lauren Quin: My Hellmouth
On view Jan. 21 to June 18, 2023
---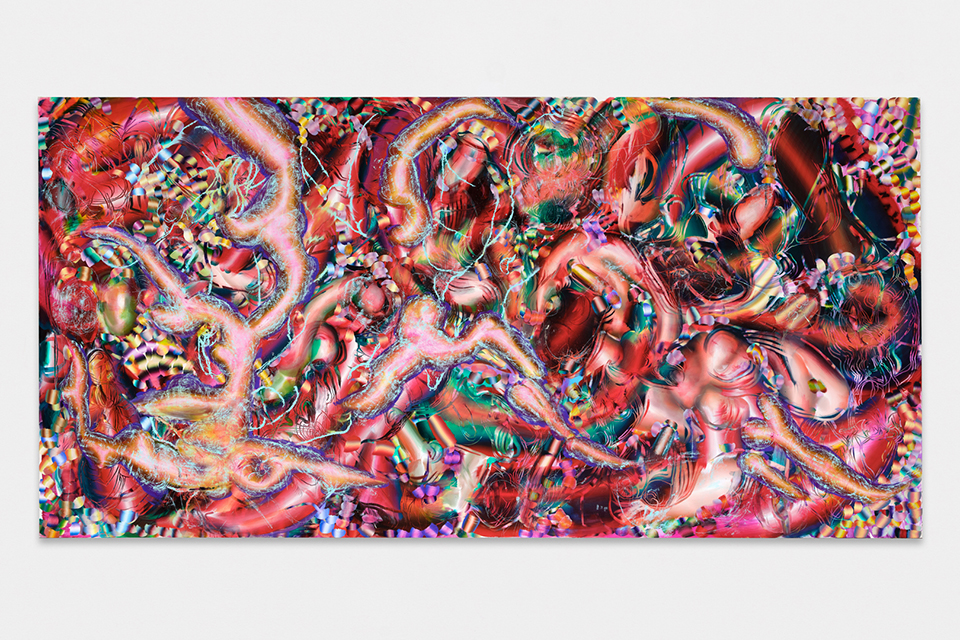 Drawing the eye in with electric colors and seemingly pulsating lines, Lauren Quin's abstract paintings exist at the juncture of the deeply personal and the universal, the point where each begins to bleed into the other. As she proves in her work, if you go too far into either, you are certain to loop back into its opposite. 
The artist is dealing in modes of communication both micro and macro, internal and external, to achieve her keenly allusive repertoire of imagery and forms of mark making.
Quin's compositions flood the viewer with an intense combination of color and symbolism. The artist deploys a host of moments and symbols as structural devices within each work. The artist's paintings are initially built from a shape that is repeated and overlapped. This layering process creates a multitude of compositional center points as well as other forms that appear in the residual spaces.
Quin's compositions are also built from a form that she calls the tube: a key trope in her oeuvre. These thick strips of color and shadow resemble volumetric prisms. When overlapping, they morph into a shifting crosshatch or moiré pattern. Quin's tubes are both the most persistently recurring and the least stable element of her compositions; they play tricks with the consistency of their weight and value.
Toward the end of Quin's process, she lays down a heavy layer of paint that she must act upon quickly, carving into it before it can set. The artist describes this portion of her production as athletic, nimble and dictated by the passage of time. In this carving process, Quin formulates a new argument for abstraction that is not about hard edges, clean lines or brute force.