On view Mar. 24 to Jul. 30, 2023
---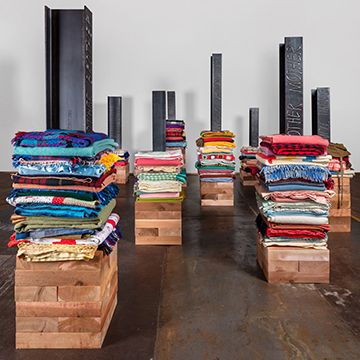 The title of this exhibition is borrowed from a poem titled "Haiku Journey" by Indigenous writer, photographer, and scholar Kimberly Blaeser. The poem is structured in four parts, each representing one of the four seasons. This section of Blaeser's poem reflects upon winter, and her words conjure the brisk feeling of the season's icy air.
ground painted in frost
thirsty morning sun drinks white
leaves rust golds return
Blaeser's poem, written in the form of Japanese haiku, brings elements of the natural world into focus. This mindful attention to detail serves as a useful mode of understanding the artworks in this exhibition, created by Marie Watt, Mark Cowardin, Rashawn Griffin and Teresa Baker. Though their works are abstract, the artists' deep awareness of materiality firmly grounds their work in the world. Details allude to larger ideas of nature, our connections to place, our familial bonds, and our physical beings.
We are drawn to specific features in this work, such as willow and buffalo hide incorporated into the wall pieces created by Teresa Baker; names of family relationships soldered onto Marie Watt's I-beams in her "Forest"; twisting forms resembling human limbs or organs in Rashawn Griffin's sculpture; and recycled metal conduits incorporated into Mark Cowardin's vast structure.
Common materials found in a hardware store are transformed into poetry through the artists' imagination. Their work has emotional resonance lent by the choice of materials that connect to deeper concepts such as the body, family, nation, and ancestral land. A whisper of shared formal gesture connects individual artworks to the works in adjoining galleries like an unseen web.
March 23, 2023 | 6 p.m. | Hudson Auditorium | Reception following
Free and open to the public, no RSVP required for in-person attendance
Light refreshments will be provided.
Teresa Baker (Mandan/Hidatsa, b. 1985) currently lives and works in Los Angeles, CA. Baker has had recent solo exhibitions at de boer, Los Angeles; Scottsdale Museum of Contemporary Art, Scottsdale, AZ; Pied-à-terre, San Francisco; Interface Gallery, Oakland; and The Art Museum of Southeast Texas, Beaumont, TX. Baker is a 2022 Joan Mitchell Fellow and was an artist-in-residence at Fogo Island Arts in Newfoundland in 2022. Baker was the 2020 Native American fellow at the Ucross Foundation in Ucross, WY. Baker received her BA from Fordham University, and MFA from California College of the Arts.
Mark Cowardin (b. 1970) is a father, a husband, an artist, and an educator. Mark's sculptural work examines the complicated, sometimes troubling, and always compelling intersection between humans and the natural world. Cowardin received an MFA in sculpture from the University of Arizona and a BFA from the University of Kansas, and currently resides with his family in Lawrence, Kansas. His work is included in numerous private and public collections including the John Michael Kohler Art Center, Kohler Corporation, the Nerman Museum of Contemporary Art, and Rockhurst University. In 2015 the Nerman Museum presented his solo exhibition "The Space Between."
Born in Los Angeles and raised in Olathe, KS, Rashawn Griffin (b. 1980) earned an MFA from Yale University, New Haven, CT, and a BFA from the Maryland Institute College of Art in Baltimore. He was an Artist-in-Residence at the Studio Museum in Harlem in 2005-2006 and his work was included in the 2008 Whitney Biennial. In 2012 the Nerman Museum presented a solo exhibition "Rashawn Griffin: a hole-in-the-wall country." The Momentary at Crystal Bridges showcased Griffin's immersive installation "we no longer recognize the backs of our hands" in 2021-2022 after he completed an artist residency there.
Based in Portland, OR, Marie Watt (b. 1967) is a member of the Seneca Nation of Indians with German-Scot ancestry. Watt holds an MFA from Yale University as well as degrees from Willamette University and the Institute of American Indian Arts. Her interdisciplinary work draws from history, biography, Iroquois protofeminism, and Indigenous teachings; in it, she explores the intersection of history, community, and storytelling. Watt's work is in the collections of the Metropolitan Museum of Art, NY; the Crystal Bridges Museum of American Art, AR; and the Smithsonian Institution's National Museum of the American Indian among others.