Andrew Mcilvaine: Resilience Story
On view Apr. 6 to Oct. 15, 2023
---
Emotions and memories inspire the mixed media installation and sound exhibition Resilience Story.
"In the space, viewers encounter drawings on paño, which are works on fabric traditionally created by Chicano prisoners from the south and southwestern United States," said Mcilvaine. "These works express feelings of loss, progress, hope, love and highlight stories of resilience. This show is about redemption through imprisonment and generational movement."
Artist Talk and Reception: Thursday, April 6, at 6 p.m.
Workshop: Saturday, April 8, at 3:30 p.m.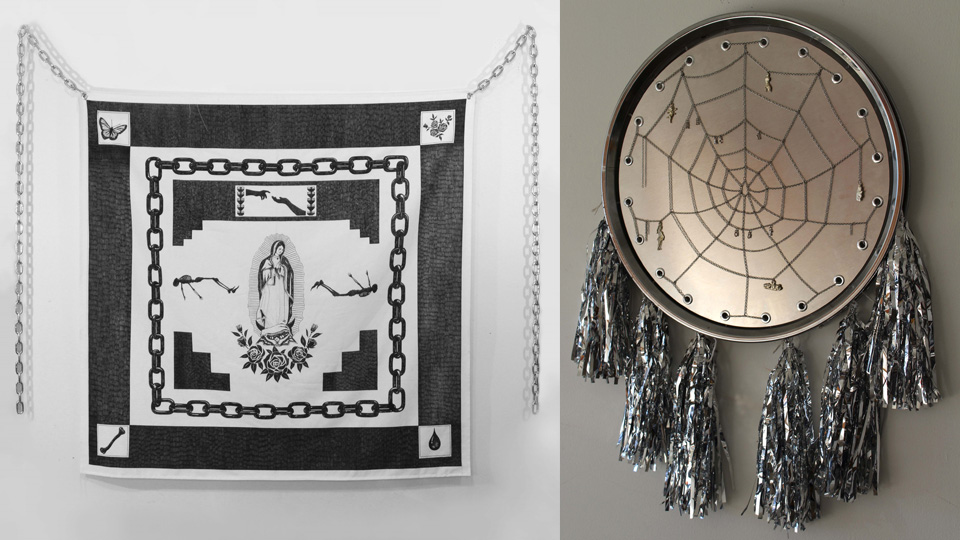 Left: Andrew Mcilvaine, No Llores, Your Soul Glows in the Dark, 2023, Ballpoint pen on paño (cloth), grommets and chain on hook, 48 x 48", Courtesy the Artist
Right: Andrew Mcilvaine, Reach Out If You Fall from Grace, 2023, Tin Milagros, chain, woven silver web, charms, grommets and silver tassels attached to lowrider hoop, 27 x 17 x 2", Courtesy the Artist