Floriene Lieberman Passes on Passion for Art
Long-time art supporter leaves a lasting mark at the Nerman Museum
---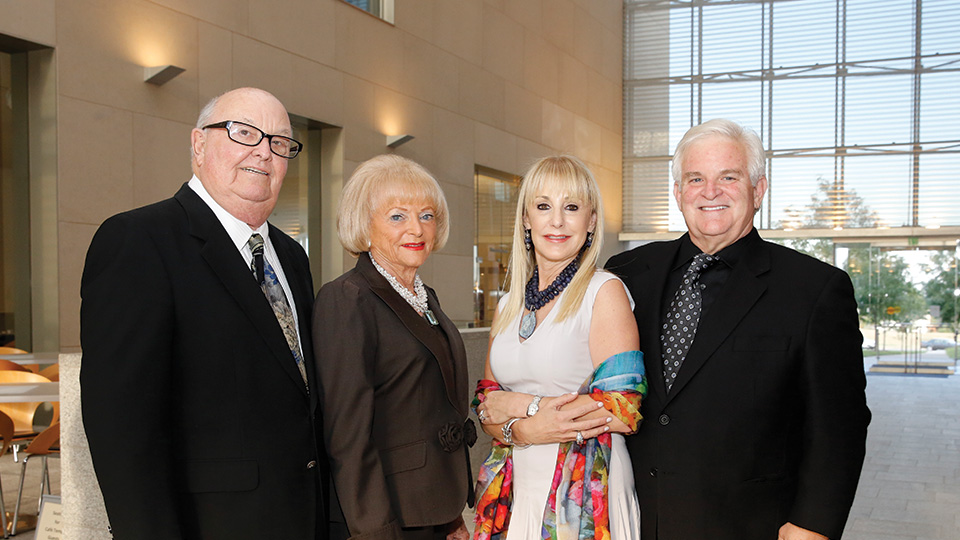 (from left to right) George and Floriene Lieberman, alongside daughter Marti Oppenheimer and her husband, Tony, at the Nerman Museum Atrium.
Floriene Kay Lieberman, for whom the Lieberman Gallery was named, had a love of art. On Sep. 14, 2023, Floriene passed away, surrounded by her loving children, including Marti Oppenheimer, another major supporter of the Nerman Museum.
Lieberman's passion for art and culture was infectious, and it was certainly conveyed to her daughter, Marti. It was not surprising then, that Marti would devote much of her time and patronage to the arts. When Marti and her husband, Tony, began their substantial support of art on the JCCC campus, Floriene immediately embraced and encouraged their decision. She was enormously proud of the collection the Oppenheimers eventually built for the College.
Floriene and her husband, George, had long supported the College, and they frequently attended campus events and exhibition openings. They were beloved at the College. When Marti and Tony gave funds to name the Museum's Floriene and George Lieberman Gallery, on the 2nd floor of the Museum, we were thrilled! It was a fitting tribute to and recognition of their long support of art on campus. The Museum's extraordinary sculpture by internationally renowned artist Magdalena Abakanowicz was gifted by the Oppenheimers in honor of the Liebermans' 50th wedding anniversary.
An early exhibition of Mata Ortiz pottery, in the College's former Gallery of Art, captivated Floriene and launched her decades-long collecting of these works. Her collection eventually numbered over 80 pots. The Lieberman home was a showcase for art—and major works by glass artist Dale Chihuly, clay sculptor John Balistreri, and painters Julie Heffernan, Eric Sall, Asad Faulwell and others held places of prominence.
Floriene's last art outing occurred the week before her passing. It was a visit to the Nerman Museum of Contemporary Art.
Bruce Hartman, Founding Executive Director & Chief Curator (retired)
Nerman Museum of Contemporary Art/JCCC, Overland Park, KS