In Remembrance of Laura DeAngelis, 1973-2022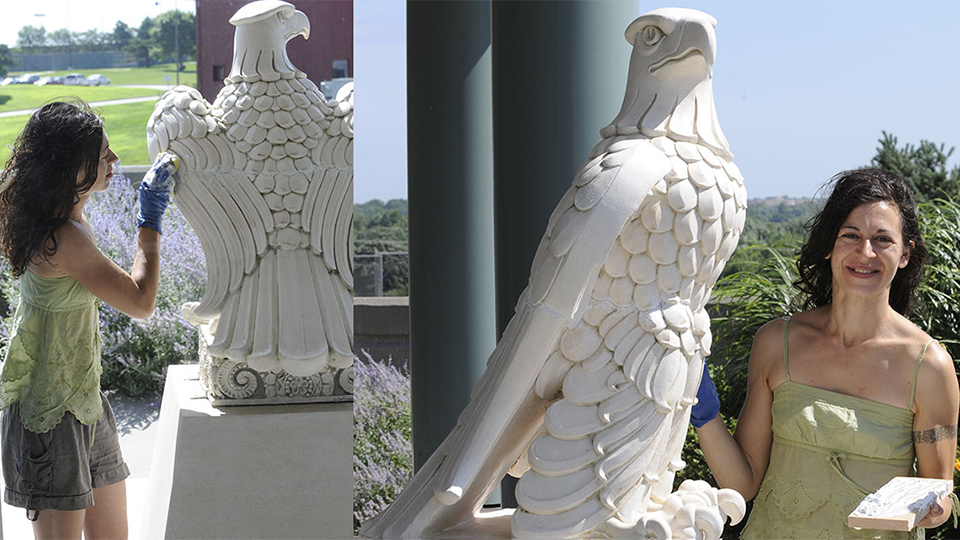 Laura DeAngelis electrified the artistic world with her unique style of mixing old with the new. Her impressive ceramic works were incorporated with the ancient technique of encaustic beeswax to cover and color her work. For decades, her art probed the "ancient and mysterious connection between humans and animals."
Deeply concerned with animals, Laura created ceramic animal portraits designed to reveal "the workings of our inner worlds and in turn, the visible reflection of that which is invisible." Laura's daily ritual included taking a walk through miles of forest with her four goats that she raised herself on her farm in Virginia.
After graduating from Kansas City Art Institute (KCAI) in 1995, Laura's career took her everywhere. In both Chicago and the San Francisco Bay Area, Laura exhibited at "Sculpture Objects Functional Art" fairs. In Santa Fe, New Mexico, she arrived on invitation as a visiting artist to teach a weeklong sculptural workshop. In Chicago and Tennessee, she taught classes and hosted workshops.
Her mark will be forever felt by the city, with her sculptures on display at Oppenstein Park and the Sherry Leedy Contemporary Art gallery in Kansas City, Missouri, and the Epsten Gallery in Leawood. The Nerman Museum has two works by Laura in its collection, a large-scale ceramic "Eagle" and a ceramic, encaustic and fresh water pearl opossum titled "Keeper."
Laura fought an ongoing battle with mental health. Said friend Peregrine Honig, "The language of the art field is indoctrinated with vulnerability and devastation.
"As we gather her work and create a fund set aside through KCAI to help a future someone whose everything seems helpless, I would ask for the space to say a month dedicated to mental health awareness is similar to a day dedicated to motherhood. Because nothing is ever enough when too little is too late."
To honor her memory, Laura's family asks that a donation be made to the National Suicide Prevention Lifeline.